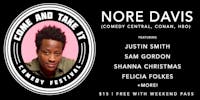 2019 Come & Take It Comedy Festival Presents NORE DAVIS (Comedy Central Half Hour, Conan, MTV, HBO) with special guests!
Come & Take It Comedy Festival Presents
NORE DAVIS (Comedy Central, Conan, MTV, HBO)
Sat. 11/9 | Show 6 PM | Doors 5 PM | $15 GA or FREE with Single Day or Weekend Pass Starting at $39.69
Featuring Justin Smith, Sam Gordon, Shanna Christmas, Felicia Folkes & More!
In the last year, Nore Davis has released his third comedy album Too Woke, filmed his first Comedy Central Half Hour which will air in Fall 2019, made two late night television appearances (including an interview) on Conan, was featured on the final season of hit HBO show2 Dope Queens, released his first comedy special You Guys Are Dopeon Amazon Prime, is the recurring host for Marvel's digital series Let's Play, and was featured in season two of Comedy Central's Thank You, Goodnight. Past credits include MTV, VH1, HBO's Boardwalk Empire, Comedy Central's Inside Amy Schumer, and was a comedy writer producing 74 sketches and segments for Seriously.tv under Complex.Nore Davis is a New York City based stand-up comedian who delivers an energetic performance filled with witty quips and sharp punch lines. Davis's style hones the perfect balance between observational and anecdotal humor as he takes ordinary situations and transforms them into personal, relatable, cackle-inducing stories. Davis creates energetic, layered scenes complete with bold dialogues and wild intonation shifts showcasing a unique style of stand-up comedy and a powerful stage presence unlike anyone else.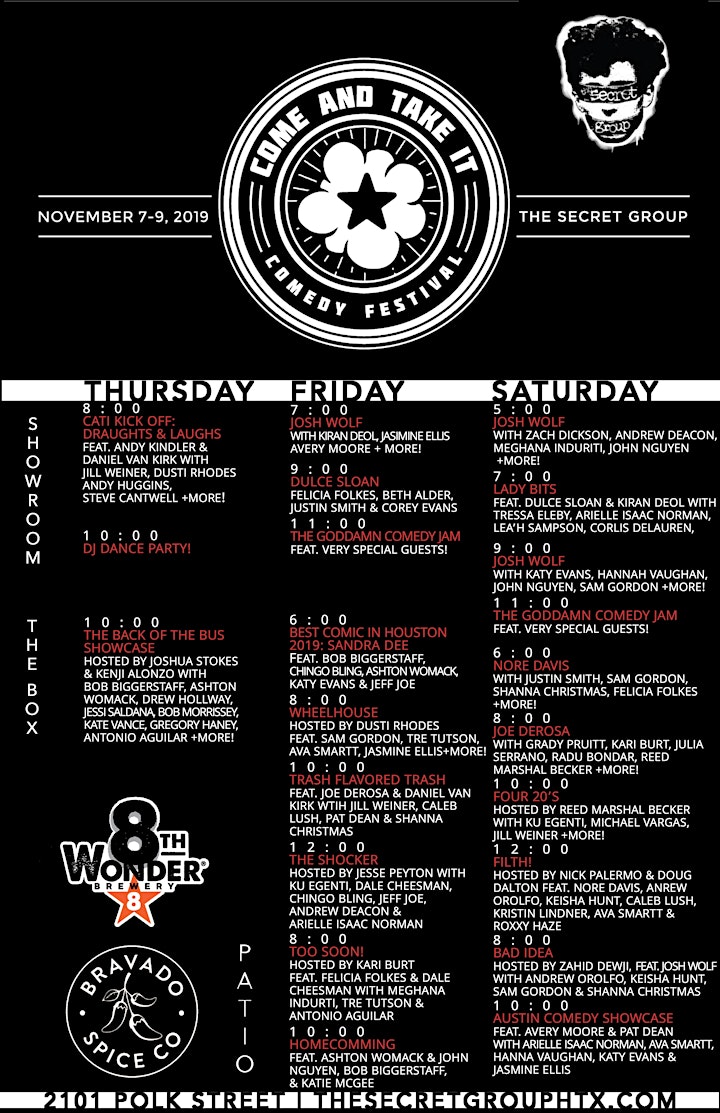 Venue Information:
The Secret Group
2101 Polk
Houston, TX, 77003